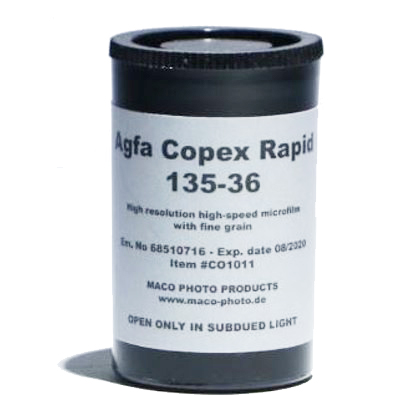 Here is another film I recently tried. AGFA COPEX RAPID!
See the Video –
This is from Emulsive Website –
Agfa Copex Rapid is a low-speed panchromatic black and white film with a nominal sensitivity of ISO 50/18°. Excellent resolution, very fine grain and excellent acutance are characteristic of Copex Rapid. Copex Rapid is coated on a polyester base and ideal for reversal processing in the Scala process.
Copex Rapid remains one of the only Agfa films sold under that brand name. It is purchased, bulk loaded and sold by Macodirectin Germany.
A little more research and I found this film was used for 'Microfilm' and has some crazy ass resolution IF developed in Spur Modular UR which is available from
From Nik & Trick Website
Copex Rapid is ideal for reversal processing in the Scala process but can be developed at home as a b&w negative film.
Agfa Copex Rapid is recommended to be developed with Spur Modular UR for optimal results. The Parts A1 and B are needed for the absolutely streak-free development of the SPUR DSX/Agfa Copex Rapid roll film; Part C is no longer needed as previously. When Copex is developed with Spur Modular UR, sharpness, fine-grain, exposure latitude, tonal values, speed utilisation are retained by Spur Modular UR developer.
Well, I didn't have any Spur Developer (Which is a low contrast developer) and I wasn't going to buy any so with a bit more research I found I can develop the film in good ole Rodinal 1/100 for 18 minutes. So I did just that!
I went to the local farm for some photos. The images below are scanned.
Quite contrasty (It was a sunny afternoon) but hell are they sharp! Maybe to lower the contrast I should try Rodinal at 1/200 or maybe XTOL at 1/3. But for best results it appears Spur Developer is going to be the winner. But like I said, I wasn't going to invest in it. However, I'm happy with what I got from the Rodinal.
TEST 1
TEST 2