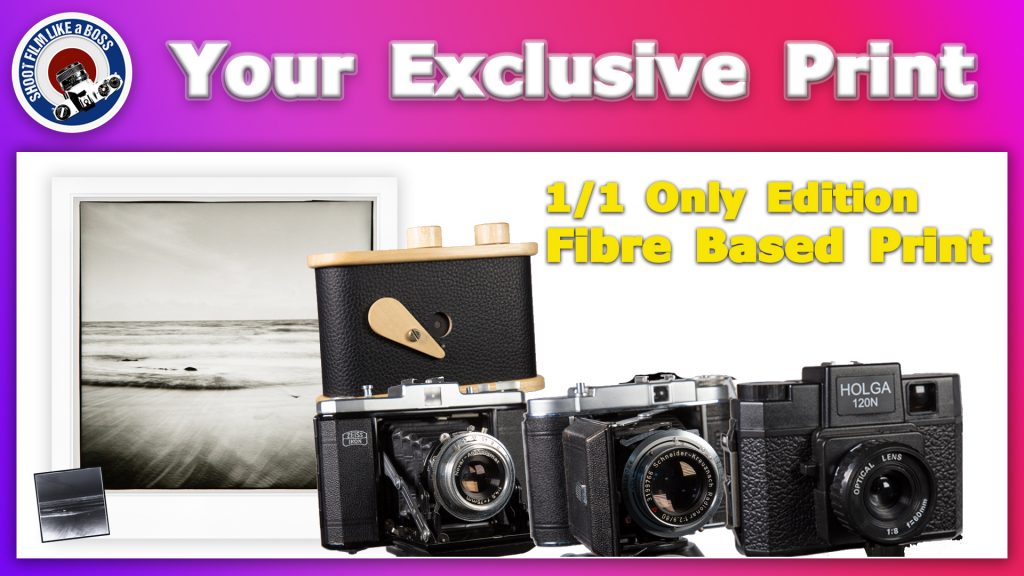 I sell many prints and reprints of my work on and off the channel. But how about your OWN EXCLUSIVE one off edition 12×12 Inch Fibre Based Selenium toned mounted print!
I have only 10 of these offers available for just £250.
I don't get it?
I am offering 10 people single limited edition prints with a kicker. These prints are semi commissioned by YOU. You choose the camera, the location and negative and leave the rest to me.
Camera and Format
The format is my favourite which is 6×6 square and the cameras available are…
The Zeiss Icon Nettar ( A classic folding camera from the 1950s)
The Franka Solida III ( A classic folding camera from the 1950s)
The Holga 120N ( The Holga has a look like nothing else with it's near sharp centre and slightly off focus edges with a natural vignette)
Lerouge 66 Pinhole (All the characteristics of a Pinhole Camera, soft focus, very wide and slight vignette edge)
Each of these cameras have a unique look with the Zeiss and Franka being of similar value.
Location
Your print can either be a minimalistic seascape take from one of the amazing beaches we have here on the Isle of Wight in the UK with the photograph being taken either early morning or late afternoon for best lighting conditions.
Or a Woodland Photograph taken from inside one the Islands dense woodland and forests.
The Product
The choice of film will be mine to suit the conditions at the time. Either Kodak or Ilford.
You will receive a full contact print of the film, the negative of your choice and, of course, a beautiful white matted 12×12 Inch Ilford Fibre Based Selenium Toned darkroom made print signed and dated with the co-ordinates of the location. And, yes, you get to keep the actual negative your print was made from so you know the print is truly a one off.
A one off payment of £250 secures your order and only 10 are available.
Visit www.buymeacoffee.com/SFLaB to book a place.